If you've seen these ornate and wonderful looking ironwork columns around Carshalton and wondered what they are, today's post – whose text has been partly adapted from Sutton's Local Listing Directory and Historic England's Listing website – should answer a few of your queries.
Clearly, street furniture like this does not form part of the archive collections at Sutton, whose records are predominantly paper based, but as repository for the Local Authority's records, and for those of it's predecessors, the archive can provide vital sources of evidence which can be used to undertake research into the origins of planning and building around the borough, and it also holds a wonderful photograph collection, so if you've ever wondered about the history of a road name, a building, a traffic system or a ornate piece of ironwork in your road – the archive may be able to provide a few answers for you.
Despite the decorative appearance of these ornate pieces of street furtniture, they are in fact sewer ventilation columns, commonly known as stink-poles. There are around 28 of these in Carshalton, and they have been locally listed in Sutton for a number of years.
The listing process can be confusing. At local level, it is designed to ensure that the historic and architectural interest of buildings with local importance that do not meet the criteria for being nationally protected, or 'listed',  is taken account of during any planning and development processes –  and local authorities retain responsiblity for drawing up these lists. However, in recent months, and after campaigning from the Local Authority, the Secretary of State for Digital, Culture, Media and Sport, advised by Historic England has recently designated 25 of these columns for their special architectural and historic interest.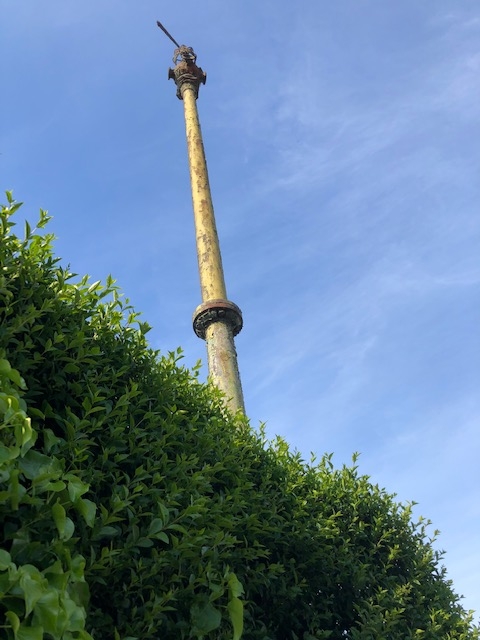 These Sewer Ventilation columns, othewise known as Drain Pressure Release Pipes, or rather wonderfully as 'Stink Pipes', can be seen at various locations around Carshalton. The Victorian period saw an era of rapidly expanding population across England. Partly in response to this,  the Public Health Act of 1875, delivered legislation which enabled local authorities to consider and facilitate the construction of sewer systems across the country. Increases to both population and the number of residences in Sutton and Carshalton at the end of the 1800s led Carshalton Urban District Council (predecessor to London Borough of Sutton) to fund a plan by the engineer Baldwin Latham (1836-1917) which would bring a formal sewage scheme to the district. Prior to Latham's plan, sewage waste would have been dispersed into cesspits and drainage ditches, which carried high risk of contamination to the drinking water supply – a significant factor in public ill health. An initial sewage infrastructure was put in place between 1896 and 1900, and a Southern extension added around 1903.
Baldwin Latham, the engineer of the scheme was a surveyor to the Croydon Board of Health from 1863 to 1870, and later ran a private engineering practice of his own. By the late 19th Century he had designed the sewerage, irrigation and water works of 15 English towns, including schemes at Carshalton, Croydon, Birmingham, Harrow and Rugby.  He is also cited as the engineer for the sewerage system in Bideford, Devon which includes three sewer ventilation columns listed at Grade II. Latham was also the author of the publication 'Sanitary engineering: a guide to the construction of works of sewerage and house drainage' (1873).
The sewer ventilation columns for the scheme were constructed by W Macfarlane & Co and the Saracen Foundry, a renowned, Glasgow-based, ironwork foundry. The company employed imaginative designers and produced huge amounts of ornate and decorative ironwork.
The stinkpole's function was twofold, firstly to prevent a build up of pressure in underground sewers in the event of a blockage, and secondly to vent off any hydrogen sulphide gas and dispel the odour, high above the ground. This gas, which smells of rotten eggs, can build up when sewage becomes septic, when pipe runs are especially long,  or when the speed of the sewage moving in pipes is slow in flat areas. It is extremely corrosive and can eat through the concrete pipes which formed the underground sewerage network, so these stink pipes had a vital part to play in the success of the sewerage system.
Carshalton's pipes are extremely tall with an ornate top fixture comprising a large arrow, a globe with four trumpetlike funnels and a spike spire piercing a crown. While highly decoraive it is likely that the height of the poles and the design of the funnels was fashioned to ensure the an efficient disperal of gas so as not to inconvenience local residents. The purpose of the arrow remains unknown, thought it is may have indicated the direction of sewer flow or acted as a weather vane.
The recovery of iron to melt down for the war effort resulted in the loss of much public ironwork. Post-war, the collapse of the British Empire,  coupled with a move away from steam power and the use of new designs, materials and technologies, saw these pipes replaced or removed in many places. It is not known how many sewer ventilation columns were erected in Carshalton initially, but around 28 survive today.
More detailed information about each of the nationally listed pipes can be seen on  Historic England's Listing website.  Sutton's Local Listing Directory offers a map showing all locations for the poles around Carshalton under item LL104, on page 115.
We are all aware of the huge influence that industrial development can have on the architectual landscape of an area. Sutton has undergone a phase of huge development in recent years, and it is only by the collection of photographs and recollections of residents, that we can be sure to hold onto collective memory about the cultural and physical landscape of where we live.   At Sutton Archives we actively collect photographic and documentary material, in both analogue (print/negative/slide)  and in digital formats. We urge you to think about this as you move around the borough. The Archive has a strong cultural remit, and we rely on donations from residents and local organisations to provide a representative picture of activity and life across the borough.
We all have a part to play in the capture of collective memory for posterity and we are always incredibly grateful to receive donations of records, images and memories for our collection, whether those of years past, or those captured yesterday. These can be of individuals, domestic homes, roads, private businesses, organisations or of public spaces, community buildings and monuments. All aspects of life in our borough are welcome.
Please get in touch, and we'll be happy to explain how you can transfer images, collections and individual documents to us during current circumstances, or access what we already have in our extensive collections.
Or you can email us direct at local.studies@sutton.gov.uk